Victoria Selina
A sister ship of Victoria Lianna, the Victoria Selina also refitted in 2011 after being launched in 1994. With sky blue lighting glowing from the periphery of high ceilings and elegant decorations provide a beautiful platform for customers as they experience natural scenery, history and culture of the Yangtze.
Price Details
Choose your favorite cabin and departure date.

Notes:
Special Notes:
All passengers on Victoria Cruises sailing between Chongqing and Yichang are required to pay $23/RMB150 per person as service charge. The service charge is payable at the time of boarding.Customer request a specific deck need an additional fee (RMB450-RMB1000) based on the floor of ship.
Customer request Superior Cabin upgraded to the executive deck just pay more USD$115 per person,that you will enjoy the following VIP service:
1.Complimentary morning coffee and tea service
2.Welcome Fruit Basket
3. Complimentary Wi–Fi service in the Executive Lounge and lobby areas.
4. Complimentary internet computer usage in the Executive Lounge.
5. Complimentary regular laundry service (up to 4 items per day, not available on embarkation & disembarkation days, no express service).
6. Nightly turn down service with printed Daily Itinerary.
7. Diet soda included for lunch and dinner.
8. Private shore excursions with 6 or more passengers in a particular group.
9. Dining selection from two dining rooms (choice of dining room to be made at the beginning of the voyage). The Dynasty Dining Room offers buffet breakfast, lunch and dinner daily, and the Captain's Farewell Banquet on the final night of the voyage. The A la Carte Restaurant offers buffet breakfast and lunch, and an a la carte menu at dinner.
10. Hot & Cold soft drinks available daily in Executive Lounge (Pepsi, Sprite, Juice, Coffee, and Tea).
11. Complimentary "Happy Hour" one hour before dinner in the Executive Lounge (including House Wine, Beer, and Soda)
12. Reserved seats for evening entertainment may also be reserved through the Cruise Director by passengers purchasing the Executive Deck Program. We ask that those who have reserved seats arrive for the show 15 minutes prior to the scheduled starting time.
Price Inclusion
Entrance fees:The land excursions listed in the itinerary.
Meals: The daily meals on the ship.
Room: A berth in the cabin as specified in the itinerary. Overnight accommodation for morning departure.
Credit card processing fee & Government Taxes.
Transfers between Maoping Pier and Yichang Tourist Center.
Price Exclusion
Transfers: Between airport/hotel and cruise terminal in Chongqing/Yichang/Shanghai.
Single Room Supplement.
US$23/RMB150 per person as mandatory service tip should be paid onbaord.
Shuttle battery cart fee in three gorges dam site CNY10p.p, cable car fee in Maoping Pier CNY2p.p.
Personal Expenses: Expenses of a purely personal nature such as laundry, drinks, fax, telephone call, optional activities, sightseeing or meals which are not included in the itinerary.
Add Our WeChat Account to Get Travel Advice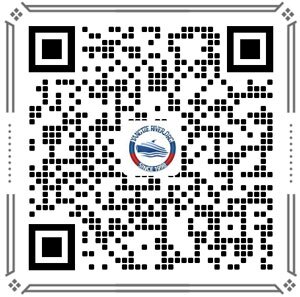 Instant messaging & real-time response: always keeps you engaged, do not waste time waiting for responses.
Efficient communication: gives you an easy way to talk to our tour consultant, and keep those conversations private.
Easy & safe booking: request a tour via WeChat and make purchases in just a few clicks, then get a confirmation within 7 hours.
Inspired by "Wechat Moments": we share lasted travel news and fun things to do in China on WeChat every week.
Stay in touch: for any tour advice, ticket bookings, emergencies, and feedback.
Cruise Itinerary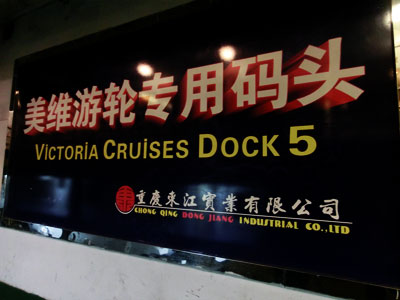 DAY 1
18:00 - 20:30 Embarkation at Chao Tian Men Dock #5 21:00 Set sail from Chongqing 21:15 Safety briefing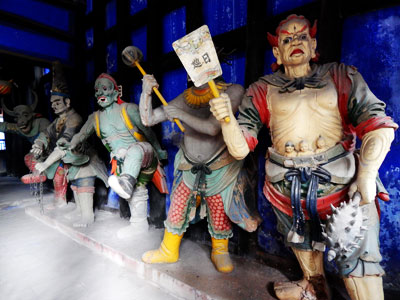 DAY 2
06:30 - 07:00 Early Bird Coffee and Tea 06:30 - 07:00 Practice Tai Chi 07:00 - 08:30 Breakfast (Buffet) 09:00 - 11:30 Additional Shore excursion---Fengdu(295 RMB p.p) 09:30 - 11:30 Activities 12:00 - 13:30 Lunch (Buffet) 16:00 - 18:00 Shore excursion---Shibaozhai 18:15 - 19:00 Captain's Welcome Reception 19:00 - 20:30 Dinner (Buffet) 21:00 Minorities and Dynasty Costumes Show

DAY 3
06:30 - 07:00 Early Bird Coffee and Tea 06:30 - 07:00 Practice Tai Chi 07:00 - 08:30 Breakfast (Buffet) 07:30 - 10:15 Additional Shore excursion---White Emperor City(295 RMB p.p) 10:45 (Est.) Sailing through Qutang Gorge 9:00 - 10:30 Activities 12:45 (Est.) Scenic cruising---Wu Gorge 12:00 - 13:00 Lunch (Buffet) 15:15 - 18:15 Shore excursion--- Goddess Stream 19:00 - 20:30 Captain's Farewell Banquet 18:30 - 23:00 Settle accounts 21:00 - 21:45 Crew cabaret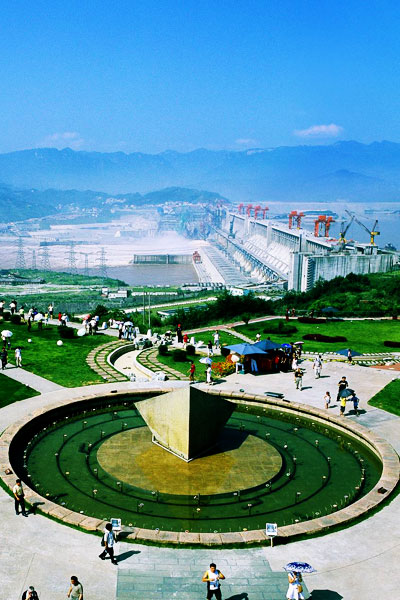 DAY 4
07:00 - 08:00 Breakfast (Buffet) 08:15 - 09:30 Disembark and board a smaller boat through the ship lock with a ship lift 09:30(Est.) Shore excursion---Three Gorges Dam Site 11:30(Est.) Take a coach to Yichang 12:30 (Est.) Arrive Yichang cruise terminal and end the tour. Tips: Check out and leave your luggage on the reception desk, the passengers can pay RMB 25 per luggage to transfer the luggages from Maoping pier to Yichang cruise terminal!