Century Paragon
Having its maiden voyage on 2nd April, 2013, Century Paragon is a luxurious 5 star cruise ship and built using the most advanced technology including the E-propulsion system. Featuring a stunning 7-story Grand Atrium Lobby and Sightseeing Elevators from Deck B 1 all the way to the top; It has a 2000square meter indoor swimming pool.
It is not simply cruise booking, we proud to go miles beyond your every expectation.
FREE upgrade: Deluxe Cabin upgrade to the third floor for a better cruise experience, save USD$30 per person.
Free Wi-Fi (wireless) for whole trip: which is installed throughout public areas and in staterooms for use with your own device.
For our customer gaining better Yangtze cruise experience: we provided alternative options on the cabin location, deck plan upgrades, dine at VIP restaurant other privilege service at the time of booking. For sure, Yangtzeriver.org will bring you an ultimate experience better than anybody.
Price Details
Buy now – avoid price rises! We now offer instant online bookings.
Choose

for instant confirmed booking and get a FREE upgrade to a higher deck. Click Pay Now to choose your suitable cruise and buy it online.

Notes:
1. Tipping Special Note: All passengers on New Century Cruises are required to pay $23/RMB150 per person as service charge. The service charge is payable when they check out for disembarkation.Customer request a specific deck need an additional fee (RMB200-RMB600) based on the floor of ship.
2. Price may higher during the Chinese National Holiday from 29th Sep to 7th Oct, higher than the above list price ($150-$250 up), please contact your travel advisor for details.
Price Inclusion
Entrance fees:The land excursions listed in the itinerary.
Meals: The daily meals on the ship.
Room: A berth in the cabin as specified in the itinerary. Overnight accommodation for morning departure.
Credit card processing fee & Government Taxes.
Transfers between Maoping Pier and Yichang Tourist Center.
Price Exclusion
Transfers: Between airport/hotel and cruise terminal in Chongqing/Yichang/Shanghai.
Single Room Supplement.
US$23/RMB150 per person as mandatory service tip should be paid onbaord.
Shuttle battery cart fee in three gorges dam site CNY10p.p, cable car fee in Maoping Pier CNY2p.p.
Personal Expenses: Expenses of a purely personal nature such as laundry, drinks, fax, telephone call, optional activities, sightseeing or meals which are not included in the itinerary.
Cruise Itinerary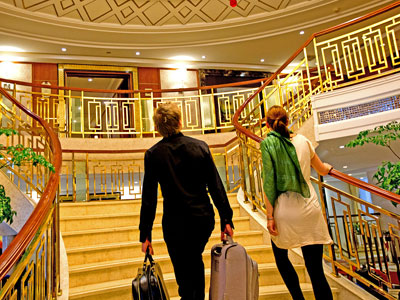 DAY 1
18:00-20:30 Embarkation 21:00-21:30 Embarkation Safety briefing(Departure in Chongqing) 21:30 Captain's Welcome Reception on sun deck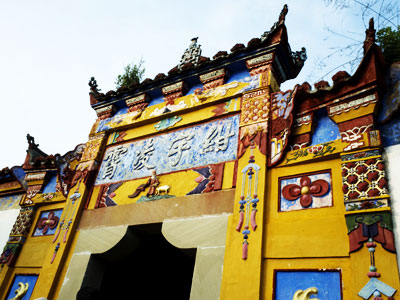 DAY 2
06:30-07:00 Morning coffee,tea and pastries 06:30-07:00 Tai Chi exercise 07:00-08:30 Breakfast (Buffet) 08:00-10:30 Optional tour to -- Fengdu Ghost City CNY290 Per Person 09:00-12:00 Cultural Activities 12:00-13:30 Lunch (Buffet) 15:00-17:30 Shore excursion---Shi Baozhai Pagoda 18:30-20:00 Dinner (Buffet) 20:30-21:30 Crew Cabaret Show

DAY 3
06:30-07:00 Morning coffee,tea and pastries 06:30-07:00 Tai Chi exersice 07:00-08:30 Breakfast (Buffet) 08:00-10:30 Optional tour to the White Emperor City CNY290 Per Person 11:00 (Est.) Scenic cruising---Qutang Gorge 13:30 (Est.) Scenic cruising---Wu Gorge 12:00-13:30 Lunch (Buffet) 14:00-16:30 Shore excursion---Shennv Stream 19:00-20:30 Buffet Dinner 20:30-23:00 Settle the bills 20:30-22:00 The Yangtze Pirate Night Show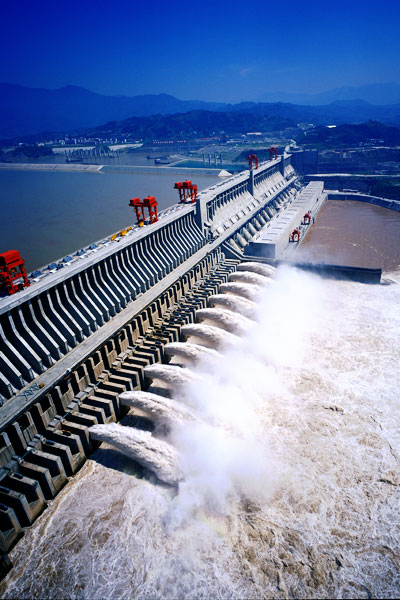 DAY 4
06:30-08:00 Breakfast (Buffet) 08:00-11:00 Disembarking at Maoping pier of Yichang&Shore excursion---The Three Gorges Dam Site 12:30 (Est.) Take bus to No.9 pier of Yichang