Choosing a Yangtze Cruise Cabin
Choosing the right cabin is very important decision. There are three factors which may influence the choice of cabin.
1. The rating of the ship - higher the ship's star rating is the better cabins.
2. The age of the ship - newer ships have better facilities.
3. Select the ship based on the appropriate date and price and then choose a cabin.
Cabin Types
There are three or fours types of cabins on the ships.
President Cruises have standard cabins, standard cabins with balcony, deluxe suites and presidential suites.
Victoria cruises have superior cabins, executive cabins, deluxe suites and Shangri-la suites.
Standard cabins with balcony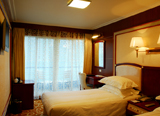 The size of a standard cabin with balcony varies from 14 m² (150.7 ft²) to 26 m² (226 ft²). Yangzi Explorer is one of most luxurious cruises and the cabin is 31 m² (333.7 ft²). Facilities in standard cabin include: twin beds, carpet, individual air-conditioning system, LCD TV, satellite programs (e.g. HBO, CNN), telephone, dresser, mini-bar, hairdryer, and a private bathroom with shower, toilet, sink and toiletry shelves.Cabins on many of the Yangtze cruise ships, such as the Victoria Cruise fleet, New Century Cruises and President Cruise No. 1, are all with private balconies.
Deluxe cabins with private balcony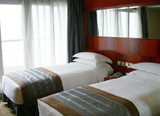 Most deluxe cabins with private balcony are located on third or fourth deck and get better views than standard cabins which located on second floor. This is an ideal place to enjoy a coffee or wine while watching the stunning scenery pass by.
Executive suites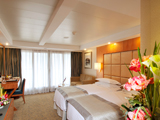 Executive suites are usually 10 m² (107.6 ft²) larger than standard cabins and about double. Suites have larger bathrooms with bathtubs, coffee table and a small sofa. The room is spacious enough to take an extra bed for family group.

Deluxe suites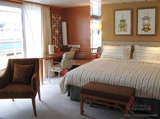 Deluxe suites are located on fourth floor of the ships. The have a small sitting area at the entrance, a lounge with a curtain to separate it from the sleeping area.
Supreme Deluxe Suites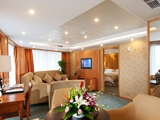 The supreme deluxe suites have different names depending on the ship – Presidential Suites (on President fleet cruises and New Century Cruises) and Shangri-la suites on Victoria Cruises. There are only two supreme deluxe suites on a ship and are located at the bow of the middle deck with a private sun duck with chaise lounges. They are perfect for customers who want only the best.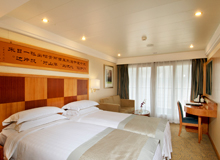 High Location Cabin
Cabin Locations
There are advantages and disadvantages in the locations of all cabins.
Advantages for higher deck cabins
1. Better views from private balcony on higher decks.
2. Close to the sundeck and viewing coffee room, bars, and card room.
Disadvantages of higher locations
1. Further from dinning room and reception deck. May have more stairs.
Lower deck cabins
Advantages:
1. Closer to dinning rooms and reception deck.
Disadvantages:
1. Views are limited from private balcony or rooms than higher deck cabins.
2. Further from the sun-deck and all entertainment rooms. For those passengers who like to do activates at sun deck are suggested choose a higher deck cabin.
Choice of cabin is personal decision for travelers. Please ask our Professional Travel Advisor for advice